It just doesn't feel like a night out with no one sizing you up: Blackhawks 1 @ Blues 3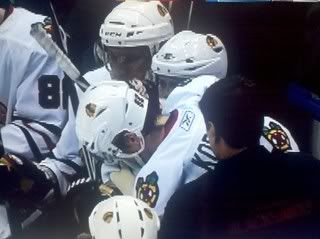 #ItShouldHaveBeenBoynton
So, that's a pretty generous final score for the Hawks, especially when you consider how only their goalie showed up tonight. They were outshot 43-26, outplayed for nearly all 60 minutes of the game, and even though Marty Turco tried his best-- make no mistake, we could have been on the wrong end of a blowout tonight-- all the Hawks could show for it was a measly goal.

What's worse, a hit early in the first period left Toews grabbing for his shoulder, leaving the bench, and not returning for the rest of the night. Quenneville's said he'll be re-evaluated in the morning, which is Hawkspeak for them likely waiting on an MRI to confirm what kind of damage his shoulder sustained. It was relatively easy to weather the losses of Hossa and Kane, to a certain extent, but thin as we are on top-tier talents at center, losing the Captain for an extended period of time is going to be a double whammy.

The game was kept close for the first two periods, with Dowell scoring off a nice feed from Stalberg in the first and then Sobotka getting unexpected help from Boynton's blind dump up the boards in the second, but a Boyes tip-in from Johnson early in the third, right as a Blues power play expired, would put the Blues in a lead they would hang onto for the night. Winchester would later swat another one in for insurance, and though Turco got his gloves on that, it crossed the line as far as the video review was concerned and it only buried the Hawks deeper. Pulling Turco out with more than 2 minutes left in the game did nothing. The Blackhawks would fly back home empty-handed, and possibly shorthanded as well.

Notes:
You will hear some say the game turned when Toews got hit, and that the Hawks should have stood up for their captain. That will be revisionist history. Truth is, the Hawks were never in the game even WITH Toews, and while whether or not a Blackhawk should have done something after that hit is up for debate, the Hawks' performance from start to end is not.
The lines were a hot mess. I wasn't able to follow them for most of the night, but the line-juggling may have contributed to the Hawks' consistent inability to generate any offensive pressure. Maybe.
Bears repeating: Turco was phenomenal tonight (in fact, he was the game's 3rd star). Besides the 40 saves, he also made a couple of outlet passes including one to Kaner that, had it been converted, could have changed the game's momentum.
Haha. Who are we kidding? Anybody who takes a look at any point of that game could tell the Hawks would have to have been extremely lucky to get out of St Louis with any points tonight.
Brouwer and Hjalmarsson left the game for parts of the second period as well-- Brouwer after taking a puck to the leg and Hammer after... well, no one knows why, exactly-- but they both came back eventually. Then Kopecky got hit on the face by a puck while he was sitting on his bench. I'm willing to write everything off as just unlucky anomalies all rolling into one giant shitshow of a game if you are. San Jose's up next. Ready to hit the restart button? Yes? Good. Let's do this.