2011 Atlantic Division Preview
Oh hello there, long time no blog! Today we'll be discussing the Atlantic Division, also known as the 90s-- you had such good memories of it as a kid, but now every time you look at it you think to yourself: what the hell was I thinking?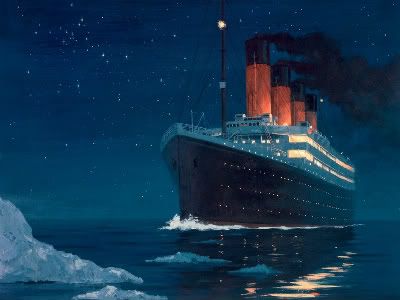 What also looks good on paper and rhymes with Titanic?
(Incidentally, this movie also came out in the 90s.)
New Jersey Devils
Additions: Cam Janssen, Eric Boulton
Subtractions: Brian Rolston, Colin White

Until last year, everyone still had pretty good feelings* about the Devils.
They were always a Cup contender, never mind that it's been nearly a decade since they last went past the first round. How can you be called a choker if you never even reach a level high enough to be considered choke-worthy? But with the signing of Ilya Kovalchuk, the attention on them grew, and they did what any self-respecting organization who signed a deal with the devil (pardon the pun) would do--they imploded. So much so that they didn't even make the playoffs, their usual spot taken up instead by teams like the Sabres and the Lightning.

This year, Devils fans have the enormous pleasure of gunning for another first-round bow with Zach Parise's arbitrator-imposed one year, $6m contract. Oh, didn't you hear? The Devils couldn't agree on a price with him, and next summer he turns UFA on them.

*inasmuch as one can have good feelings about a team that killed hockey and also pushed the salary cap loophole so far back it went right around to bite us all in the ass. Thanks, Lou. You are why we can't have nice things. -Ken Holland, Stan Bowman, Mike Gillis

New York Islanders
Additions: Christian Ehrhoff, Marty Reasoner, Brian Rolston
Subtractions: Christian Ehrhoff (LOL SRY JUST KIDDING), Doug Weight (retired), Zenon Konopka, Radek Martinek, Bruno Gervais

Man, this team is depressing. Forever known as the Atlantic's ugly stepchild, the Islanders are just chugging along like any duckling waiting for the day it turns into a swan. You can give them props for trying, I guess, signing such stalwarts like Marty Reasoner and Brian Rolston, and trying for an eleven-hour deal with Christian Ehrhoff, who at least doesn't actually care that it's Long Island-- after all, he signed on to live in Buffalo for ten years.

But the Islanders can't rely on youth movement alone, even though that's what they're so desperately trying to do right now. They struggled last season and will probably continue to struggle this season, buoyed in parts by Tavares and sinking most other times, and end up pretty much in the same place they were last year.

But with a shiny new tattoo parlor in the arena, at least. (ohgodkillusnow, say the Isles faithful. Sorry dudes.)

New York Rangers
Additions: Brad Richards, Mike Rupp
Subtractions: Alexander Frolov, Matt Gilroy, Vinny Prospal, Chris Drury (bought out)

What can we say about this team that hasn't already been said before? They won the Brad Richards lottery, and good on them, even though every time they seem like they're about ready to start making sense and handing out sensible contracts they start all over again. It's an addiction, man, and someone needs to do an intervention on Glen Sather or something.

The Rangers didn't really change much this year--they lost a couple of vets (including former Captain Chris Drury, since bought out) but switched them out with comparable replacements, and you can imagine they've got younger players waiting in the wings for increased roles on the ice. What little defense they had last year is almost entirely gone now--seems they're happy to go with Marc Staal and Michael Del Zotto. But that's what they have Lundqvist for, amirite?

Philadelphia Flyers
Additions: Ilya Bryzgalov, Brayden Schenn, Wayne Simmonds, Jakub Voracek, Jaromir Jagr, Maxime Talbot, Andreas Lilja
Subtractions: Matt Richards, Jeff Carter, Kris Versteeg, Sean O'Donnell, Brian Boucher, Ville Leino, Dan Carcillo, Nikolay Zherdev

Holy Makeover Batman! Where do we even start?

One day this last summer, Paul Holmgren thought to himself, perhaps a smidge too late, "You know what this team really needs? A legit goalie."

So he set out to find out. Thankfully, in arid Arizona, such a goalie existed. He was lounging around in his favorite park thinking to himself, "You know what, Bryz? You really heffta get outta this town. Move somewhere with more parks, u know?"

It was a marriage for the ages: the Philadelphia Flyers, long troubled with their Achilles' five-hole, finally acquired the star goaltender they so often dreamed about. Ilya Bryzgalov, suffering in the shadows of the Coyotes' mediocrity, finally signed with a team that could bring him that silver chalice. Together, THEY FIGHT CRIME WIN HOCKEY GAMES.

Nobody knows the celebration that occurred in the City of Brotherly Love that night, but when Paul Holmgren woke up the next day with a throbbing headache and a $51million dollar bill, it was with the knowledge that he'd secured his team their champion.

Then, just for kicks, George McPhee called him up to let him know how much he signed Tomas Vokoun for.

(Oh, and then they shipped their captain and his BFF out of the city and brought home some semi-decent but thus-far unproven scorers, signed the guy they picked because they couldn't draft Patrick Kane to a 6 year, $25.5m deal, Chris Pronger may still not be ready for the start of the season, Dan Carcillo will now be booed when he plays in Wells Fargo Center, Scott Hartnell and Jaromir Jagr will have enough hair for the rest of the team but not enough scoring, and they still owe our city those damned cheesesteaks. Just your regular off-season, nothing more to see here. :|)

Pittsburgh Penguins
Additions: Steve Sullivan, Richard Park, Jason Williams, Sidney Crosby?
Subtractions: Mike Rupp, Maxime Talbot, Eric Godard, Alexei Kovalev, nooooo not Sidney Crosby!

You know, what's interesting about this team is how well they performed last year even without Crosby OR Malkin in their lineup. At one point they had AHLers in their top two lines, and still they managed to win games. That's kind of scary, and if Crosby comes back early this season from his concussion, then this team is probably coming out of the shit show that is the Atlantic.

Or Crosby doesn't quite manage to come back, guys like Dustin Jeffrey remember they're Dustin Jeffrey, and the team sinks under the pressure of trying to outperform expectations for the second year in a row.

Whatever happens, you can be sure Pens fans will find a way to fit the narrative to their purpose. (Jagr's coming back to the NHL, you say? Oh, he's going to be a great veteran presence, loved the man, he's totally awesome/Messianic/like Jesus on toast but so much better! Wait, he signed with the Flyers because they offered him more money/ice time? How dare that motherf*cking sonuvabitch has-been even think he's remotely ready for the NHL, did he even see the hit Ovechkin lay on him at the Olympics? Matt Cooke is just an asshole but he's not that much of an asshole; at least he's not Trevor Gillies, who is a complete and utter waste of space because he went after our players. Fuck the Islanders and their stupid watch party, let's make a big deal out of this and bully their PR team into de-organizing their watch party. Oh, they actually did? Well, we never really cared about it either way to be honest. We're not actually that shallow. Really.) They're kind of revisionist like that.