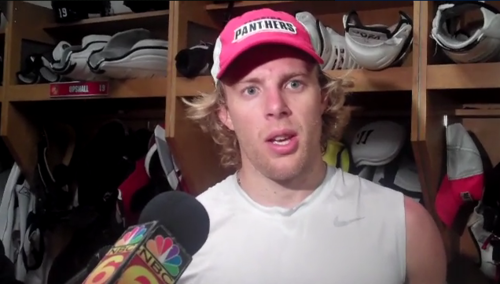 For the love of God, get a haircut.
The Blackhawks took their talents fathers to South Beach last night, which was enough to warrant wariness among Hawks faithful if we were to judge from the team's one-year track record at Dad Trips so far. And if we were playing a team other than Florida, it might have been the case as well.

It started well enough, at least on the stat that matters. Brunette had a hard-working, grinding pass to Toews early in the first that the captain was pretty much drove the captain into the net with the goal in tow, and though the Panthers outshot the Hawks 15-7 in the first (then again, we were playing in Florida, notorious for padding their own shots and thus, also Vokoun's statistics) it was the Hawks who came out of it with the lead.

The second period saw more effort from the Hawks, with Marian Hossa showing off what he can do with a play-making center (LOL Kaner) when he finished a crisp cross-ice pass from Lil Peek-a-Boo. HOWEVER, the Panthers seemingly were not out of it just yet, cutting the Hawks' lead to a slim half when Versteeg set Weiss up for a goal of their own.

And then the Panthers came on fast and furious in the final frame, outshooting the Hawks 14-5 and eventually having one tip past Crawford. The Hawks couldn't mount much of a counterattack then, so to overtime the game went. Neither team made much of anything, and in the shootout only Patrick Kane found the back of the net. Game over, half of the trip done. Tonight the Hawks face Tampa Bay and on Sunday the Canucks come to the Madhouse.
Hit the jump for more game notes.